2020 Porsche Taycan Reviews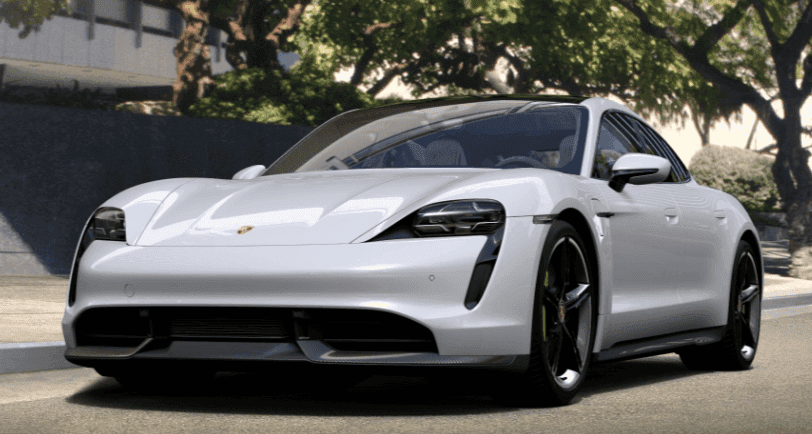 The 2020 Porsche Taycan is one of the most hotly anticipated Porsche models since the jaw-dropping Porsche 918 Spyder hypercar. But just what makes this all-electric Porsche so special? You don't just have to take our word for it! Our team at Rusnak/Pasadena Porsche near Los Angeles will help you learn more about what the top automotive publications have to say about the 2020 Porsche Taycan.
2020 Porsche Taycan Review: Car and Driver
Car and Driver noted that the Porsche Taycan is the third-fastest car they have ever tested, and the fastest all-electric model they have ever tested. See what else they had to say below:
"The shifts of the rear motor's unique two-speed transmission are almost imperceptible during regular driving. But activate launch control, and the Porsche knocks out a one-two shift that is as quick and as hard as any gas-powered sports car."
"The Porsche Taycan is the first electric vehicle to be built on an 800-volt electrical architecture. This design allows Porsche to offer more powerful 270-kilowatt charging that can recharge the battery from five to 80 percent in 22.5 minutes."
2020 Porsche Taycan Review: MotorTrend
Again, MotorTrend also noted that the 2020 Porsche Taycan ranks among the fastest cars they've ever reported on, noting:
"When we managed to wrangle a Taycan Turbo S onto a drag strip, it recorded the quickest (time) and fastest (trap speed) quarter mile we've ever seen from an electric car. It hit 60 from a stop in an otherworldly 2.4 seconds and cleared the quarter mile in 10.47 seconds at 130.7 mph. With that, we can verify that the Taycan is, indeed, bonkers fast."
"The Taycan is a tech powerhouse with screens abound and clever gadgetry. Behind the steering wheel sits a curved 16.8-inch configurable digital instrument cluster display. Infotainment consists of two touchscreens; there's a 10.9-inch screen mounted in the center of the dashboard and a supplementary 8.4-inch screen positioned below it in the center stack."
2020 Porsche Taycan Specs
So just how did the all-new and all-electric Porsche Taycan win the hearts of the most discerning critics in the automotive industry? Take a moment to learn more about how the 2020 Porsche Taycan specs will take your Los Angeles drives to the next level.
4S Engine: The 4S engine powers up to 482 hp and 479 lb-ft of max torque with Launch Control. Its Overboost Power pushes it to 562 hp! 
Taycan Turbo: The Turbo powers up to 616 hp, and its Launch Control boosts the torque to 626 lb-ft and a 670 hp Overboost Power.
Taycan Turbo 4S: The Turbo 4S powers up to 616 hp, but its Launch Control bests even the amazing specs on the Turbo with a max torque of 774 lb-ft and max 750 hp.
One of the key performance features found in the 2020 Porsche Taycan for sale is Launch Control, giving your Taycan Overboost Power of 560kW.It's this Launch Control system that allows the 2020 Porsche Taycan to reach 0-60 mph in as quickly as 2.6 seconds!
Find Your 2020 Porsche Taycan at Rusnak/Pasadena Porsche near Los Angeles
Our team at Rusnak/Pasadena Porsche is ready to transform your drives through Arcadia and Glendale with a new 2020 Porsche Taycan from our online inventory. If you have any questions about how you can get behind the wheel for yourself, don't hesitate to contact us online.
Learn More With Rusnak/Pasadena Porsche
Whether you already have a custom color in mind or you've settled on a simple and sophisticated Porsche Cayenne in black, we want to help you find exactly what you're looking for. The 2022 Porsche Cayenne colors are sure to impress, and you'll have an extraordinary range of options to consider for both the…

The GT designation has historically distinguished the motorsports-inspired models in the Porsche 911 lineup, and although "GTS" and "GT3" are more common today, the essence of these designations remains essentially unchanged. Although the 911 Turbo models now occupy the pinnacle of the lineup, the 2022 Porsche 911 GTS and GT3 models absolutely deserve the…

The 2022 Porsche Cayenne is offering more than ever before, and Los Angeles-area performance enthusiasts have taken notice. The 2022 Porsche Cayenne interior includes superior luxury finishes like standard ambient lighting and an available Comfort Access liftgate, as well as advanced technology features like standard Porsche Communication Management—and all this only scratches the surface of what…