Which Porsche Models Are Available as Convertibles?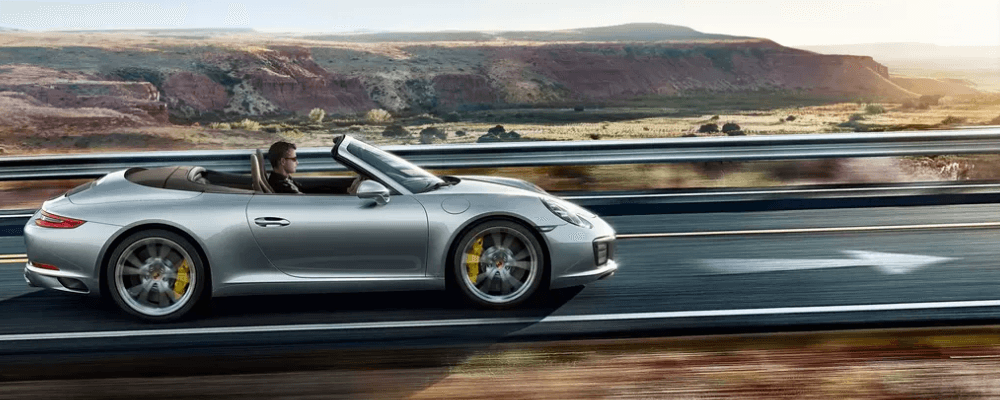 There's something about driving a sports car with the top down that can make any drive through Los Angeles more enjoyable. The master engineers at Porsche recognize this appeal, and those on the hunt for a Porsche convertible will have many different options to consider. All Porsche 718 Boxster models and select Porsche 911 models can be had with a drop-top, and prices for these models range from a modest $62,600 MSRP to an upper boundary of $183,500 MSRP.
Ready for a closer look? Find out more about the available Porsche convertible models with our in-depth guide, then stop by Rusnak/Pasadena to start your new adventure.
Porsche 718 Boxster with Convertible Top
All new Porsche 718 Boxster models feature a convertible top. (If you're looking for a hardtop coupe version, you'll want to choose the 718 Cayman.) The 718 Porsche Boxster convertible is a small, two-door sports car that delivers thrilling performance and comes with a wide array of upscale features and a quick folding soft-top. Available engines include a 300-hp turbocharged 2.0L flat-four, a 350-hp turbocharged 2.5L flat-four, and a 395-hp turbocharged 2.5L flat-four. There are five Porsche convertible models in the 718 Boxster lineup, as seen here:
Porsche Convertible Models: 718 Boxster
718 Boxster Base – Starting at $62,600
718 Boxster T – Starting at $71,700
718 Boxster S – Starting at $74,600
718 Boxster GTS 4.0 – Starting at $89,500
718 Boxster 25 Years – Starting at $100,100
Porsche 911 Convertible
The iconic Porsche 911 convertible is the world's definitive sports car. If you're interested in Porsche convertible models, you should know that the new 911 is offered as a Cabriolet and as a Targa, both of which feature convertible tops. Engines range from a 379-hp 3.0L twin-turbocharged flat-six in the 911 Carrera, to a 473-hp 3.8L twin-turbocharged flat-six—and that's true for Carrera and Targa models. The full range of convertible 911 Cabriolet models includes ten unique options:
Porsche Convertible Models: 911 Carrera Cabriolet
911 Carrera Cabriolet – Starting at $114,000
911 Carrera 4 Cabriolet – Starting at $121,300
911 Carrera S Cabriolet – Starting at $129,900
911 Carrera 4S Cabriolet – Starting at $137,200
911 Carrera GTS Cabriolet – Starting at $149,500
911 Carrera 4 GTS Cabriolet – Starting at $156,800
Porsche Convertible Models: 911 Targa
911 Targa 4 – Starting at $121,300
911 Targa 4S – Starting at $137,200
911 Targa 4 GTS – Starting at $156,800
911 Edition 50 Years Porsche Design – Starting at $183,500
No matter which model you choose, you'll find the interior to be meticulously crafted with premium materials. Porsche Communication Management (PCM) will keep you connected on the roads in and around Arcadia—and this is just one of many exciting technology features you'll find inside.
What's the difference between the Carrera convertible and the Targa? Technically, the Targa sits between the coupe and convertible segments; its drop-top is unlike anything you'll find on other classically styled convertibles in the Los Angeles area. The 911 Carrera Cabriolet features a more conventional convertible design. Neither of these models technically qualifies as a Porsche hardtop convertible, but since the Targa retains its aluminum roll bar and rear windshield when the top falls away, it shares more of its characteristics with hardtops than the Carrera Cabriolet.
Enjoy Your Porsche Convertible on Local Scenic Routes
When you bring home a new Porsche convertible for sale from Rusnak/Pasadena, you can enjoy a refreshing and exhilarating experience no matter where you need to travel. Of course, if you're looking for unforgettable views and lasting impressions, our favorite local scenic routes around Los Angeles are absolute must-sees. Whether you're looking for a great view of the city or you'd prefer to ride along the coast, you'll want to check out each of the following options:
Palos Verdes Drive around the Palos Verdes Peninsula (14 miles; 30 minutes)
Malibu Canyon to Pacific Coast Highway (24 miles; 35 minutes)
Angeles Crest Highway to Mt. Wilson (17 miles; 35 minutes)
Mulholland Drive (14 miles; 50 minutes)
Linda Vista through the Arroyo Seco (7 miles; 15 minutes)
Griffith Park (3.5 miles; 15 mins)
The Canyon Roads (Mileage and time vary)
Find a New Porsche Convertible for Sale at Rusnak/Pasadena
Check out our new Porsche inventory today, and explore our lease specials to find the perfect Porsche convertible at the perfect price point. If you have any questions or you're looking for particular features—like AWD—you should always feel free to contact us online!