Porsche Wheel Repair in Pasadena

Rusnak/Pasadena Porsche is your certified Porsche dealership near Glendale, where you'll find a full lineup of new and pre-owned Porsche vehicles for sale in Pasadena, as well as world-class vehicle maintenance, repairs, and body work–including alloy wheel repair. Keep your Porsche looking like new with the help of our alloy wheel repair specialists, who can take care of everything from refinishing and straightening to manufacturing and Porsche OEM parts replacements!
Types of Porsche Wheel Damage
At Rusnak/Pasadena Porsche, our certified technicians and auto body repair specialists have are factory trained to identify and repair a wide range of potential Porsche wheel damage issues, including:
Bent Rim – A bent rim can be unsightly, but it can also put you and your tires at risk. Bring your vehicle in to get your bent rim fixed at Rusnak/Pasadena Porsche, where we'll check the rim for structural integrity and either repair it or replace it if necessary.
Curb Damage – Usually located on the lip, spokes, or face of the wheel, curb damage is often caused by driving on a flat tire or curb rash.
Corrosion – Caused by chemicals, salt, dirt, and natural elements, corrosion can be fixed with repair, prime, paint, and a clear coat finish.
Gouge – If you ran into road debris or another object with the wheel, you may have gotten a gouge in your wheel. This can be fixed with welding and advanced machinery.
Crack – If there's a crack in your wheel, the structural integrity is compromised and requires a replacement OEM rim.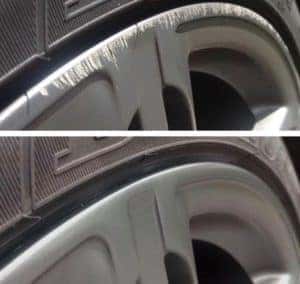 Get Your Wheel Rim Repair Near Arcadia at Our Wheel Repair Shop! Repairs starting at $149.95, prices may vary!
Rusnak/Pasadena Porsche is your source for professional aluminum wheel repair near Alhambra at 325 W. Colorado Boulevard in Pasadena, CA. Our Porsche service and parts centers are open Monday through Friday from 7:30 a.m. to 6:00 p.m., and you can contact us online or call us directly at (844) 242-2521 to set up an alloy wheel repair appointment or to find out more about the services we offer! While you're here, find out about how often you should get a tire alignment.
Also be sure to check out our fine selection of pre-owned Porsche Macan models when you're ready to update your drives in Los Angeles.